For many Canadians, it is not unusual to accumulate some amount of debt over the course of your life. But what can you do when you begin to feel overwhelmed by it?
The best way to avoid bankruptcy or a consumer proposal is to get your debt in order before it's too late. If your debts, bills, or both are beginning to get out of hand, it's time to step back and assess the situation.
Managing Your Bills and Debt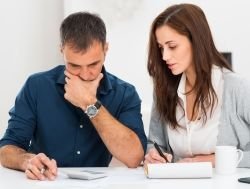 The best first step to take when you find yourself in financial trouble is to either review your current budget or create one.
In order to properly calculate all of your monthly expenses, add up all of your monthly bills and credit card and loan payments. The total amount of these costs are your "non-negotiable" payments. From there, take stock of how much you are spending on food, gasoline, household supplies and recreation - your "negotiables." Once you have all of the numbers for everything, subtract the total sum from your monthly income.
If you find yourself in the red at the end of the month, you will need to cut back on some of your negotiable spending. Perhaps the issue is spending too much on nights out, or overspending on products that either could be found at a lower price or have a lower cost alternative.
The bottom line is you should get your budget down to a manageable level, so you are not scrambling around at the end of the month trying to decide who does and doesn't get paid.
Fixing the Damage
After you have determined how much you have as surplus cash at the end of the month, you should apply, at the very least, a portion of those funds towards paying down any credit card or loan balances in order to pay them off faster and reduce the amount of interest you are paying on the balance every month. Showing on time payments on all of your accounts, as well as lowering the amount of your balances will allow your credit score to improve.
Also, obtain a copy of your credit reports from both Equifax and TransUnion. Looking over your reports will help you assess your overall debt as well as pinpoint any erroneous information that might be negatively affecting your credit (such as accounts that you did not open or incorrect personal information). Once you report the problem to one of the reporting agencies, they are legally obligated to investigate it and inform the other agency to remove it if the information is indeed incorrect.
Maintaining a Good Credit History
Once you have your credit in order, the best way to keep it in shape is simple: adhere to your budget, and be sure to put at least a portion of your monthly earnings into savings, so when an unexpected event occurs it won't throw your entire financial situation into disarray.
When You Need a Car, We Can Help
If you are experiencing difficulty getting approved for an auto loan due to your bruised credit, Canada Auto Loan can help you obtain the financing you need to get back on the road. We have a countrywide network of car dealers that have the financial experts who know how to work with your unique credit situation. Once you complete our fast, easy and secure online application, we will connect you with the dealer nearest your local area that can help you.