Parking Panda, a leading provider of on-demand parking, announced that it will launch in Canada for the first time with the city of Toronto getting first dibs. On top of that, the company also revealed a partnership with Maple Leaf Sports and Entertainment. Now Toronto motorists will be able to more easily find - and even reserve - parking in real-time throughout the city.
On-Demand Parking Available in Toronto
Is there any worse drawback about heading to the downtown area of a big city than looking for parking, let alone affordable parking? Now, people heading to Toronto will have an easier and more hassle-free time finding parking throughout the city.
"We're excited to announce our first international expansion in such a beautiful city and to provide Canadian customers with a smarter and easier way to park," said Parking Panda CEO Adam Zilberbaum.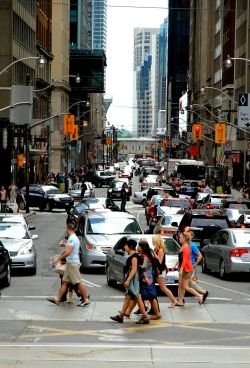 Either on their website or using their on-demand app, drivers can find available parking options, compare prices, and even purchase and reserve spots in real-time (or even for times and dates in the future) by navigating their interactive map.
Think about this great service: Not only does it make the process of parking downtown easier than ever before, but you can plan ahead and save yourself time and money every time that you need to park downtown.
"Our quick, smart and hassle-free service allows Toronto drivers to plan ahead, and know how much they're going to pay before heading downtown," said Zilberbaum.
Parking Panda currently has over 20 partner parking lots and garages throughout the Greater Toronto area. Drivers can also book at select "PandaScan" locations which makes the process of getting in and out of the lot or garage easier than ever.
At a PandaScan location, when a driver reserves a spot ahead of time, they get access to a parking pass right on their smartphone through the app. Once they reach the parking destination, all they need to do is scan the pass on their phone and they will be let in/out. The company assures motorists that the reservations are "guaranteed," and they call it the "most streamlined experience in parking to date."
The Partnership with Maple Leaf Sports and Entertainment
Parking Panda also announced that they are teaming up with Maple Leaf Sports and Entertainment (MLSE). Sports fans and event goers should be more than pleased.
"Our partnership with Parking Panda is another important step in our goal of delivering the best experience in sports and entertainment for our fans at Air Canada Centre and our other venues," said Wayne Zronik, MSLE's Vice President of Facilities and Live Entertainment.
Fans of the Maple Leafs, the Raptors and the Rock, as well as anybody heading to an event at an MSLE venue, will now be able to locate the parking that works for them. Whether they want the convenience of being as close to the locale as possible, or to be able to find the cheapest parking available, Parking Panda can help them.
Even if you are looking for everyday parking or a spot near one of Toronto's many attractions, city drivers can utilize this helpful service to make their parking experience as easy and hassle-free as possible.
Do You Need A Car?
It's great that Parking Panda is now available in Toronto, but what if you don't have a vehicle to take advantage of their service? If you need a car, but your credit is keeping you from getting approved for a car loan, Canada Auto Loan can help.
We help Canadian residents connect to the right auto dealers in their local area - the ones that stand to give them their best shot of being approved. Find yourself a quality, dependable vehicle by completing our fast and easy online application. We look forward to helping!