Are you interested in owning one of the many environmentally friendly cars for sale on the market right now? Between pure electrics, plug-ins, conventional hybrids, hydrogen fuel cells, diesel-fuelled powertrains and highly-efficient gasoline options, there are plenty of "green" cars to choose from. And the recent Automobile Journalists Association of Canada (AJAC) 2016 EcoRun was held to show off a variety of these vehicles.
The EcoRun is an annual event that serves both informational and practical purposes. Journalists who attend the EcoRun receive information to pass on to consumers about alternative vehicle options, while, at the same time, analysts can gather accurate road testing results and fuel economy numbers. Ranging from subcompacts to pickup trucks, vehicles of all sizes are showcased and are driven under real-world road conditions.
Visiting This Year's EcoRun
This year marked the fifth edition of the AJAC EcoRun, and the event was attended by more than two dozen members of the association. It started in Toronto on June 2nd, and the participating vehicles made stops at Evergreen Brickworks for opening ceremonies before heading out to Oshawa, Cobourg, Belleville, Picton, Kingston and Brockville. The run ended in Ottawa, at City Hall, on June 3rd.
The 2016 eco-friendly vehicles that were showcased included:
The Chevrolet Colorado Diesel, Chevrolet Cruze, Chevrolet Malibu Hybrid, Chevrolet Spark, Chevrolet Volt, Fiat 500 1957 Edition, Ford C-MAX Energi Plug-In Hybrid, Ford Focus 1.0 Litre, Honda Civic Sedan (Touring), Honda HR-V, Hyundai Sonata Plug-In Hybrid, Kia Optima LX ECO Turbo, Lexus CT 200h, Lexus RX 450h, Mazda CX-3 GT AWD, Mazda CX-9 Signature AWD, Mazda MX-5 GS, Mercedes-Benz S 550e Plug-In Hybrid, Nissan Altima 2.5 SL, Nissan Leaf SL, Smart Fortwo Cabrio, Subaru Impreza, Toyota Mirai, Toyota Prius, Toyota RAV4 Hybrid and the Volvo XC90 T8.
The lone 2017 model was the Porsche 911 Carrera.
And while many of the vehicles featured in the EcoRun are priced out of the range of the average car buyer, several models are fairly affordable, even if purchased new.
Affordable Green Cars for Smart Shoppers
You don't necessarily have to spend big to save both loonies at the pump and the environment. In fact, the following eco-friendly vehicles can be purchased new for $30,000 or less (as they were driven in the EcoRun).
The Chevrolet Cruze:
The 2016 Cruze is larger, lighter and more efficient than previous versions. With its stop/start feature, under certain driving conditions, the engine automatically shuts down when the car comes to a stop. Then, the engine automatically restarts when the driver takes their foot off the brake. This feature helps to increase the vehicle's overall efficiency.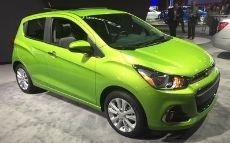 The Chevrolet Spark:
The Spark is a small car, but it will seat four comfortably. And because it comes standard with a rearview camera and rear parking sensors, it is one of the safer vehicles in its class. Optional safety features include forward collision alert, lane departure warning and side blind zone alert. Also, the Spark's new 1.4-litre engine produces 98 horsepower, 14 more than the 1.2-litre engine in the 2015 model.
The Fiat 500 1957 Edition:
This limited edition celebrates 57 years of production and has plenty of style to spare, not to mention a sport-tuned suspension for improved handling and 16-inch forged aluminum wheels. The retro body colour is available in four exterior options, Bianco, Verde Chiaro, Latta Menta and Celeste Blu, with a premium leather interior in either Marrone or Avorio.
The Kia Optima LX ECO Turbo:
Equipped with a long list of convenience features, the LX ECO Turbo also comes with Kia's all-new fuel-efficient 1.6L turbo GDI engine, paired to a 7-sped dual-clutch automatic transmission. And the fact that you can select from three driving modes (ECO, Normal or Sport) allows you to tailor the weight and responsiveness of the steering wheel to engine performance.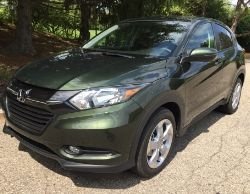 The Honda HR-V:
Reviewers have called the HR-V "one of the most sensible subcompact SUVs you can buy." Even though it is a relatively small vehicle, the comfortable and roomy seats can be folded in various ways to match your passenger and/or cargo-carrying needs. The HR-V also comes standard with a rearview camera and optional features include a blind spot camera, automatic climate control, a power moonroof and heated front seats.
One of the goals of the annual EcoRun is to prove to consumers that there is a "green" vehicle out there for almost every type of driver, including those who are budget-conscious. And speaking of your budget, no matter what kind of car you are looking to buy, getting the right financing should be one of your top priorities.
Credit-Friendly Financing
If you need to purchase a vehicle while dealing with imperfect credit, you may be worried about getting an auto loan approval. This is where Canada Auto Loan can help. We can connect you with a dealer right in your area who is qualified to work with your unique credit situation. Quickly and easily, we can do the searching for you, so you can get back on the road fast.
Our service is absolutely free and places you under no obligation to buy anything. So, go ahead and fill out our simple and 100 per cent secure online application to get started today.