For car buyers with damaged credit, it is important to find a vehicle that's both reliable and affordable. Kia seems to fit the bill as the manufacturer just earned top ranks ahead of luxury brands in the 2016 J.D. Power Initial Quality Study in the U.S.
Having transformed into an industry leader in design, quality and technology, Kia Motors reached historic new heights recently, as J.D. Power recognized the brand as the highest scoring nameplate in its 2016 Initial Quality Study (IQS) out of all 33 makes in the U.S., finishing ahead of Lexus, BMW and Porsche.
This is the first time in 27 years that a non-premium brand has topped the IQS rankings. Kia's rise to the top was driven by segment-leading performances from the Sportage (Small SUV) and Soul (Compact Multi-Purpose Vehicle), while the Forte (Compact Sedan) and Sorento (SUV) placed second, and the Rio (Subcompact) placed third in their respective categories.
Over the last four years, Kia's U.S. sales have consistently grown, and so too has the brand's performance in J.D. Power's Initial Quality Study. After entering the overall top 10 for the first time in 2013, Kia placed second in the industry and led all non-premium makes in IQS in 2015.
This bodes well for car buyers who are looking for not only an affordable vehicle, but a reliable one as well. According to Michael Sprague, chief operating officer and EVP, Kia Motors America, "Ranking highest in the entire industry for initial quality is the result of Kia's decade-long focus on craftsmanship and continuous improvement, and reflects the voice of our customers, which is the ultimate affirmation."
It should be known that in the United States, Kia owners report fewer issues with their vehicles within the first 90 days of ownership than all other car and truck brands, so it stands to reason that same quality should be reflected in the models sold here in Canada.
The annual J.D. Power IQS, now in its 30th year, analyzes responses from vehicle owners in 25 segments. IQS is determined by vehicle owners evaluating the driving experience, engine and transmission performance, and a broad range of quality-related problems within the first 90 days of ownership.
Affordable Kia Vehicles for Buyers with Damaged Credit
Whether you're looking for a simple sedan or something more family oriented, Kia vehicles are very affordable and perfect for car buyers with less than great credit and who are on a budget. We have ranked the following Kia vehicles from lowest to highest starting MSRP:
1. Kia Rio (2016 Models start at $14,495)
L/100km (Hwy/City):
Manual 6.4/8.8
Automatic 6.3/8.7
ECO 6.3/8.5
2. Kia Forte (2015 Model pictured; 2016 Models start at $15,995)
L/100km (Hwy/City):
LX Manual 6.3/9.3
EX & SX Manual 6.9/9.8
LX Automatic 6.1/8.9
EX & SX Automatic 6.7/9.7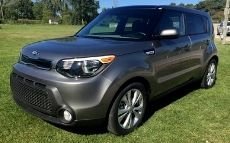 3. Kia Soul (2015 Model pictured; 2016 Models start at $17,195)
L/100km (Hwy/City):
1.6L Manual 7.8/9.9
1.6L Automatic 7.9/9.8
2.0L Automatic 7.5/9.8
2.0L Automatic w/ECO 7.7/9.7
4. Kia Sportage (2017 Models start at $24,795)
L/100km (Hwy/City):
2.4L GDI FWD 8.0/10.4
2.4L AWD 9.5/11.3
2.0L Turbo GDI AWD 10.2/11.9
5. Kia Sorento (2016 Model pictured; 2017 Models start at $27,695)
L/100km (Hwy/City):
2.4L GDI FWD 8.3/11.2
2.4L GDI AWD 9.3/11.5
2.0L Turbo GDI AWD 9.4/12.3
3.3L GDI LX & EX AWD 9.3/13.2
3.3L GDI SX AWD 10.1/14.0
And if affordability is still an issue with these brand new models, you should know that there is a good chance to find a more affordable option by looking at a late model used example.
Financing a Reliable Vehicle Is Within Reach
Canada Auto Loan connects car buyers who are struggling with their credit with car dealers who have the lending resources that can help them get back on the road.
After you complete our fast, secure and obligation-free online application, we will match you with the nearest dealer in our countrywide network who has the best possible chance of getting you the auto financing you need, and into a safe and reliable vehicle fast. The opportunity is here, reach out and grab it today.