Now that you've entered into a Consumer Proposal plan, your life has likely become much less stressful. Creditors have stopped harassing you, and you are now able to pay down a portion of your debt each month in one easy payment. But, of course, life doesn't always go as planned and now you find yourself in need of a car.
Since CP repayment plans last four to five years, it is impossible to say what you will need during this time. And cars don't last forever, so it is understandable that you may need to buy one while in the process of making payments on your CP. But, when looking for auto financing, you might have problems getting approved for the loan. Why?
When you filed for a Consumer Proposal, your credit rating took a major hit. A CP will immediately place your rating at an R7 or an R9, and will usually stay there until you have completed the repayment plan. This rating will remain on your credit report for up to 8 years from the date you filed, depending on how long your repayment term lasts.
Because of this, some lenders may have trouble approving you for a car loan, even though you are making the effort to repay your debts. However, this doesn't mean that you can't get approved; it just means you need to work with a car dealer that has the expertise to handle your situation.
Are You Ready for More Debt?
Before you proceed further, have you made sure that you can afford another payment? When your CP was finalized, the agreed upon monthly payment amount was based on your income at that time. Unless you have had an increase in pay or a change in your finances (such as a loss of a previous car payment) you might find it difficult to work another monthly payment into to your budget.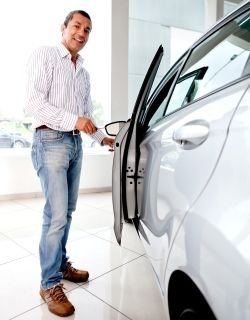 But, if circumstances have indeed changed (you or your spouse have gotten a better paying job, for example), it may now be financially possible for you to make a vehicle purchase. Just keep in mind that you should look for something reasonable that will meet all of your immediate needs, as you will be looking at higher interest rates and fees on your loan.
When you visit a dealer that can help, be sure to bring all the necessary documents with you, such as your driver's license, proof of residence and proof of income. A lender may require you to have a list of references as well, so be prepared for this by getting permission from at least six friends, family members or coworkers.
Another helpful thing to have ready is some sort of down payment. Showing the lender that you are willing to invest in the purchase will definitely give you a more favourable chance of approval. It will also lower your risk of accruing negative equity on the loan.
Having Issues Finding a Dealer?
If you have had problems finding a dealer who can work with your unique credit situation, Canada Auto Loan is here to help. We have a network of dealers, ranging from Vancouver to Halifax, that will do everything possible to get you approved. Complete our secure and obligation-free online application today, and we will connect you with a dealer nearest your local area that can get you back on the road. Start today.