If you've been dealing with damaged credit, getting back on track can seem difficult. But there is a way out, and, once you get there, follow these 6 credit rules that will help you avoid being stuck in that situation again.
1. Avoid Carrying a Balance on Your Credit Card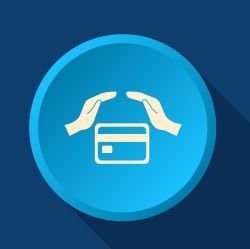 Since credit cards typically have interest rates, everything you purchase with them will become more expensive if you are constantly carrying a balance. To avoid this, pay off your balances in full every month. Not only will this help you keep your finances manageable, it will help you build or maintain a great credit score. If, for any reason, you must have a balance on your card for longer than one billing cycle, try to keep it to 30 per cent or less of your credit limit. 30 per cent is the number lenders look at for your utilization ratio, and anything above that number will result in a lower credit score.
2. Steer Clear of Late Payments
If you are late on your credit card payments, you will incur costly fees, damage to your credit history, and the card issuer may apply a higher annual percentage rate (APR) to your account. There are a couple tools available from most credit card companies that can help you avoid this:
E-mail and text alerts when you have a payment due.
Enable automatic payments that can be made directly from your bank account on the due date.
In some cases, you may be able to ask your card issuer to remove a late fee, as long as it is not an ongoing issue. However, we must emphasize that the best way to avoid late fees is to always make your payments on time.
3. Thoroughly Review Your Transaction History
While credit card companies offer services to ensure that users are protected against fraudulent transactions, it is wise to keep a close eye on your statements and transactions. Most card issuers allow users to view card activity online, and you can use this to regularly monitor your transactions and spot fraud before you receive your monthly statement. In most cases, contacting the card company immediately to dispute the suspicious activity will improve your chances of resolving the issue quickly.
4. Go Over all of the Terms & Conditions
Carefully review the terms and conditions of the credit cards you are using or are considering applying for. And pay especially close attention to the following things:
What types of fees can be charged by the card issuer
The APR of the card
If the card issuer can change the APR
How the rewards program works, if offered
If there is an arbitration clause in the agreement
The privacy agreement
5. Monitor Your Credit
The best way to ensure that your credit stays on track is to regularly check your credit. Some credit card issuers offer complimentary monthly FICO credit scores on your statement. You can also request a free copy of your credit report annually from each of the major credit agencies (Equifax & TransUnion), or at any time via a written and mailed request.
6. Avoid Cash Advances
When you are in a bind and need cash fast, it may be tempting to take out a cash advance from your credit card. Keep in mind that most credit card issuers impose cash advance fees and apply a higher APR to the withdrawn amount, so this should be avoided. If you really need cash, turn to your bank instead.
Problems with Your Credit? We Can Help
Canada Auto Loan has helped people in challenging credit situations all across Canada get connected with car dealers that can help them get back on the road. We have a network of reputable special finance dealers ready and waiting to help you find an auto loan that works for you. Get started today by completing our fast, free and secure online application.